How Can the Best Corporate Training Programs Make You a Better Professional?
---
If you are reading this blog, then you must be looking forward to joining a reputable training institute to gain professional training. In order to learn new skills and enhance the existing ones, taking professional training from time to time is indispensable for every professional, irrespective of his/her domain or nature of work. Learning is a continuous process that stretches through a lifetime and anytime whenever you feel it necessary, you can pursue professional training offered by the experts. That will not only enlighten you about many new facets of work and update you about the new changes taking place in the industry but also, you will become more confident about the tasks that you handle and deliver. 
Enhance your Skills with the Best Corporate Training Programs
It is rightly said that knowledge is a priceless asset and the more you gain it, the better it is for you and the organization that you work in. Today, most recruiters look for not only well-learned but also, well-trained candidates and so, if you are equipped with corporate training, then that definitely will give an edge over the other contenders. In every stage of the professional career, the significance and need for training are well established and therefore, giving it a priority in your career will be a wise thing to do. Professional education should not remain restricted in the initial years of your career but, it should be prioritized in the later years as well. It is because, change is something that is the only constant thing in the world and to keep pace with the ever-changing corporate world, learning new skills and gaining competencies through training will always keep you on the profitable side.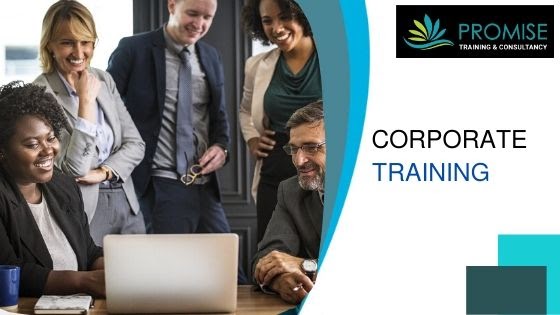 How Enriching and Effective are the Corporate Training Programs?
Understanding the company's objectives, work culture, and policies is very important for every employee so as to accomplish the goals and bring in more productivity. The best corporate training programs offered by Promise Training & Consultancy will make you capable and confident enough to figure out all these, understand your individual as well as team roles and responsibilities, and deliver your duties responsively and successfully. 
The employers also should provide ample in-house training opportunities and make sure that the workers are paying the required attention and importance to the training programs and ensure their wholehearted participation. Different types of in-house training courses are offered by Promise Training & Consultancy, which provide the professionals with convenient scopes to gain and share knowledge. These training solutions are very convenient and cost-effective and the businesses can definitely get benefited from the same. Through these training programs, the trainees can easily learn the essential competencies, understand the complex industrial processes, learn new trends, etc., and these will make realizing the business goals easier and faster.